John Kerr and Duke Soccer
Kerr, inducted into the Duke Sports Hall of Fame in 2004, replaced John Rennie in 2008, who compiled a 410-161-34 record in 29 seasons at the helm of the Blue Devil program.
Kerr, a 1987 graduate of Duke who captained the Blue Devil's to the 1986 national championship, returned to his alma mater in 2008 following nine seasons as the head coach at Harvard. While with the Crimson, Kerr compiled a ledger of 81-57-13 while earning trips to the NCAA Tournament in his last two campaigns.
During his tenure at Harvard, Kerr produced 15 first team All-Ivy League selections, three Ivy League Rookie of the Year choices and two Ivy League Player of the Year picks. In addition, the Crimson led the nation in scoring in 2006 en route to the Ivy League championship.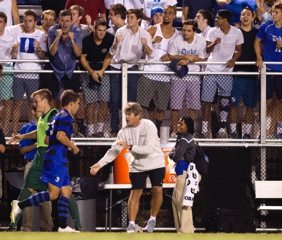 In addition, Kerr has served as the coaching director of the F.C. Greater Boston soccer club since 2002 and is a current member of the U.S. Soccer Federation Coaching Staff.<
While at Duke, Kerr was the national player of the year in 1986 as the Blue Devils went 18-5-1 and captured the school's first national championship. A two-time first team All-ACC and All-America choice, Kerr finished his career with 42 goals and 43 assists for 127 points. Those totals rank fifth, second and third, respectively, all-time at Duke.
Kerr went on to play for the U.S. National Team, where he saw action in 17 matches and tallied two goals from 1984-95. He played professionally in England, Ireland, France, Canada and the United States. From 1996-98, Kerr played in Major League Soccer as a member of the Dallas Burn and New England Revolution. In 1998 and 1999, Kerr was a player and coach for the Boston Bulldogs of the professional A-league.
Kerr has coached at the youth, high school, collegiate and professional levels in both England and the United States. In 1992, he was the top Blue Devil assistant of a squad that reached the national semifinals.